History of the CCHSM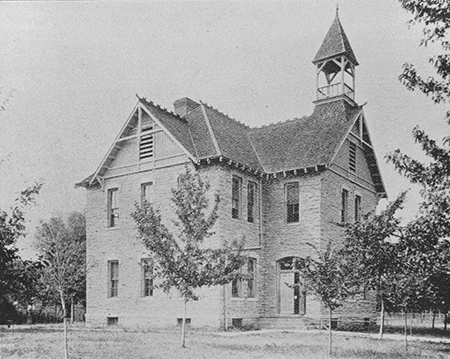 The Cowley County Historical Society Museum: 1967
THE EARLY YEARS OF THE CCHS MUSEUM: SOME RECOLLECTIONS
By Roland Mueller
During the past forty-five years, historians have begun to appreciate more fully the value and functions of local history. The result is history that is not only more interesting because it reflects local interests and concerns but is also more concrete and easier to understand. A significant factor in this change has been the growing number of local history museums.
It is correct to say that the major purpose of the history museum is to teach history. The means by which this accomplished has been clearly spelled out in the by laws of the Cowley County Historical Society Museum, whose 40th anniversary is now being observed. Among them are "to collect, embody, arrange and preserve books, pamphlets, maps, charts, manuscript papers, paintings, statuary, relics and other material illustrative of the history of Cowley County; that it shall gather all information calculated to exhibit the past and the present; and that it shall carry on educational work."

GETTING IT STARTED
These were also the goals of the first CCHS, organized in the early 1900s by a group of interested citizens with a small collection of artifacts. Without a permanent home, their collection was housed in different locations, including a public school, a downtown store and the two local colleges. Visiting hours were nearly non-existent and the number of supporting members was small. Under such limitations, it could hardly be classified as an operational museum. A solution presented itself when, in 1966, the local board of education decided to raze Bryant School, the last of Winfield's original elementary school buildings. We organized a small committee to explore the possibility of using that building for a museum. On 22-August. 1966, an open meeting was held at the old Chamber of Commerce building. Because of favorable public response, we decided to request the use of the building. The board responded by conveying the building and the grounds on 10 October, with the stipulations that it would revert to the school district if not used as a museum and open at least four days each month. In the meantime, the CCHS was reorganized and its collection was turned over to the new CCHS at a meeting with the former president, Mrs. W.G. Anderson, on 27August.
One of our earliest decisions involved choosing a name for this new museum. A public contest led to the selection of "Kickapoo Museum." However, after a vigorous protest from a prominent donor, the board chose the present name: Cowley County Historical Museum.
These and other early activities, which included revising the society's constitution and by laws, were carried out by a temporary board of directors, which consisted of J. C. Witter and G. A. Kuhlmann (co-chairmen), Pauline Marten (treasurer), Roland Mueller (secretary), along with Dorothy Bixler, Keith Green and Galen Nickels. Assuming the monumental task of converting the old school building into a new museum was the board which was expanded and revised at the election on 10 October 1966, with the addition of Jerry Newland as treasurer and Brad Light, member. At the same time Witter became president and Kuhlmann, vice president. By May 1968 Kuhlmann had replaced Witter as president and by March 1969, Brad Light had replaced Newland as treasurer.
Three major tasks confronted the board: 1) renovate the building, which by this time was in very bad condition; 2) acquire artifacts for displays and documents for the archives; and 3) secure the necessary funding for all of these changes. In February of 1967, we met with Stanley Sow of the Kansas State Historical Society for help and encouragement. During these months, the public was kept informed by means of many newspaper articles.
Renovation projects included installing a new heating and air conditioning system, cleaning out and painting every room, repairing most of the windows and building portable room dividers. The goal of readying the first floor for the opening date of 30 May 1967 was realized after many hours of labor by board members and other volunteers. Work then continued on the three upstairs rooms and hallways.
Appeals for artifacts were so successful that items often had to be put into storage until room space and display cases were available. These ranged in size from large pieces of furniture and farm equipment to small pieces of antique glassware. They also included many documents and records for the museum' s archives.
Opening day -Memorial Day - was an event for great celebration. Hours for the museum to be open were set at 2 -5 pm on Saturdays and Sundays
Finances presented a serious ongoing problem for this new undertaking. A number of major contributions, especially one from Mrs. Anderson, helped pay for some of the initial renovation. Several membership campaigns and other donations from local civic and social clubs paid for most of the rest. Local support was evidenced by the nearly 350 memberships that were received as of the opening date. But this was only the beginning because operating a large museum proved to be a very expensive venture, especially with utilities alone consuming upwards of $1000 each year (20 -35% of our operating budget). The board made several unsuccessful requests to the City Commission in the hopes that some relief might be obtained with respect to utilities.
An early request for county assistance also failed. However. by 1983, the county commissioners were ready to help in the form of a revenue sharing amount of $10,000 and in 1986, approval of an ongoing annual ~mill levy, which was to be shared with the Cherokee Strip Museum in Ark City.

KEEPING IT GOING
A variety of resources, approaches and projects managed to keep the Museum "alive" prior to the 1986 decision. First and foremost, it was absolutely essential that we be VERY careful managers of the moneys we did receive. For the ten years prior to 1986, we received annual contributions from United Way, ranging from $350 to $1500. Moneys derived from a doll show, a quilt show, several benefit concerts and admissions from an "open house" at the famous Hiatt House on West 9th Avenue also were helpful. A number of clubs, such as Rossetti Circle, BPW, DAR, and Kiwanis provided funds as well as volunteers.
However, other approaches for public relations purposes and fund raising were also required. First of these, was the newsletter which I produced and sent to 2000 to 3000 addresses throughout the county from 1968 to 1971. From 1972 to 1986, I wrote a regular column for the Courier under the heading, "Museum Footnotes." Each article began with a story about some event or person important in Winfield's history. This was followed by some pertinent information about the historical society and the museum, including a list of those who had served as greeters. During the early 1970s, I began to produce slides depicting early local history, especially those which showed changes in the downtown area. Up until 1986, these slides were shown to about 100 civic and social clubs and school and church groups Periodic mailings were also used to recruit new members as well as to renew expiring memberships. And finally, some moneys were realized from the donation jar and the sales counter at the museum.
The CCHS was responsible for a variety of historical and educational projects in the community. These include an oral history program which began in 1970 and continued for about 25 years; the acquisition of Courier microfilm and readers for the public library; the 1984 Chautauqua at Island Park; and promotion and leadership for the observance of our city's centennial in 1973. It also attempted, albeit unsuccessfully, to save some of our older buildings, most notably the old Santa Fe Depot. Over the years, many school groups from Winfield and nearby areas toured and studied at the museum.
Later changes in board leadership were: Edna Ann Cartar became president 1972. I was president 1975 until 1986, when I moved to California. During my time on the board, it was usually assumed that the president also was the director of the museum. Brad Light was treasurer from 1969 until 1986, when he became president. Frankie Cullison became a volunteer in 1970 and joined the board in 1972; she was secretary for most of the years after 1972 and she became museum director in 1986.
Board members are elected at the society's annual meetings. Members during my years on the board (1966 1986), in addition to those already mentioned, were: Jerry Aistrup, Velma Albertson, Lois Biby, Richard Buterbaugh, Wava Chisum, Richard Clifford, Lillian Cloud, Roy David, Mary Dean, Don Dietrich, Lorraine Dungan, Richard Emerson, Emily Frazier, Albert Hodges, Helen Johnson, Nancy Jefferis, George Lancaster, Glorine McGregor, George McNeish, Karl Magnusson, David Miles, Farrel Oard, Marge Piel, Doris Richardson, Nellie Smith, Alice Telford, Robert Volk, Anna Wakefield and Larry Wilgers
The first twenty years were difficult years in terms of obtaining the finances required to keep the museum open to the public. We really had to scratch for the money we received and we had to be very careful as to how it was spent! They were, on the other hand, very rewarding years. Public support was on the increase, facilities and displays were improved and a variety of significant projects were initiated. It certainly was worth all the time and effort we put in. By 1986, I was satisfied that the museum was financially secure and that it would serve the community well for many years to come.