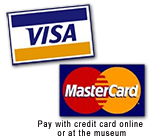 .
Future events through October 2023

These are a few of the events planned. Be sure to check the CCHSM website frequently for updates and additional information
Museum Project — Continuing maintenance needs for the museum

Brick Fundraiser - Please help us with this moneymaking project – the sale of commemorative bricks will help with the continuing maintenance needs for the museum. Call for more information and order form.



Become a CCHSM member. Renewals and new memberships are welcome. Membership information can be found on the museum website, cchsm.com or call CCHSM: 620-221-4841

All events are at the CCHSM museum, 1011 Mansfield, Winfield unless otherwise stated.

New exhibit in main room is open, "Once Upon a Time" celebrating Winfield's 150th anniversary


Sunday, October 8—2:00-4:00p.m.—"History Home Porch Tour" Costumed reenactors will tell the story of the home, who built it, and the family that lived in it. Watch the website and Facebook for details.


Sunday, October —"Voices from the Past Cemetery Tour" Union-Graham cemetery. Wonder who those folks were that the streets in Winfield were named for? Your questions will be answered as the costumed re-enactors tell the stories of these Winfield founders. $10 ticket. Watch for the exact date and details later in the summer.


Monday, October 16—4:30 Museum Friends, "Remembering the Day JFK was shot on this 60th Anniversary" JoAnn Parsons
More programs are in the planning stage for this spring and summer so check our website frequently for updates!!
---
Dillons Food Stores Community Rewards Program
Cowley County Historical Society Museum has enrolled in the Dillons Food Stores Community Rewards Program.
If you have a Dillons rewards card, log into the Dillons Food Stores account, search for Cowley County Historical Soc. Museum either by name or LM545 and then click Enroll.
If you do not have a Dillons Rewards card, you can click on the appropriate link to begin.
Create an account, which requires some basic information, a valid email address and a rewards card. A rewards card is available at the customer service desk at any Dillons Food Store.
Thank you in advance for helping the museum.
---