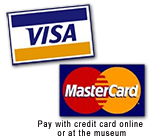 .
Future events and exhibits
Museum Project — Continuing maintenance needs for the museum

Brick Fundraiser - Please help us with this moneymaking project – the sale of commemorative bricks will help with the continuing maintenance needs for the museum. Call for more information and order form.



Become a CCHSM member. Renewals and new memberships are welcome. Membership information can be found on the museum website, cchsm.com or call CCHSM: 620-221-4841


"Celebrate 150 Years-1870-2020" - This display was finished just as the museum closed for Covid so we will be continuing it through this year


A special display is included within the exhibit commemorating the 100th year anniversary of the passing of the 19th Amendment.



Sunday, October 10, 2:00 p.m.—"Santa Fe Trail"
Let Jeff Davidson, singer/songwriter/historian, lead you down the Santa Fe Trail with poetry and song as we celebrate the 200th birthday of this historic trail. Bring a lawn chair and enjoy the afternoon on the south lawn of the museum. view poster


Monday, October 18—Museum Friends 4:30 p.m. museum


Monday, November 15—Museum Friends "History Feud" 4:30 p.m. museum


Saturday, January 29, 2022—Celebrate Cowley County History Day—Baden Square 9:00 a.m.