SANTA FE TYPE MALLET ARTICULATED COMPOUND LOCOMOTIVE
LARGEST LOCOMOTIVE IN THE WORLD
BUILT AT TOPEKA SHOPS
LENGTH 120 FEET 7 INCHES, TRACTIVE POWER 110,000 LBS.
WEIGHT 850,000 POUNDS, COST $43,883.00
OIL BURNER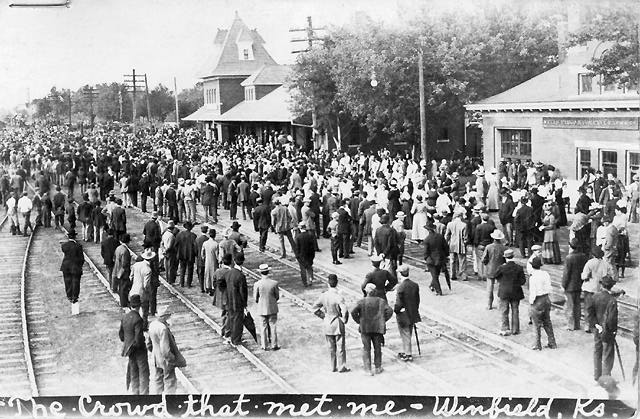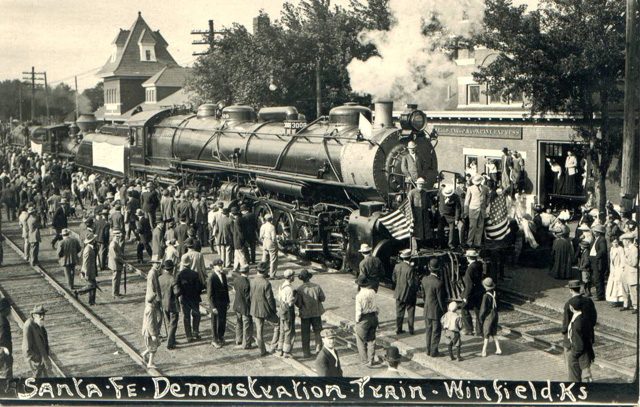 Note the smokestack of an old train behind that may have been the first train into Winfield.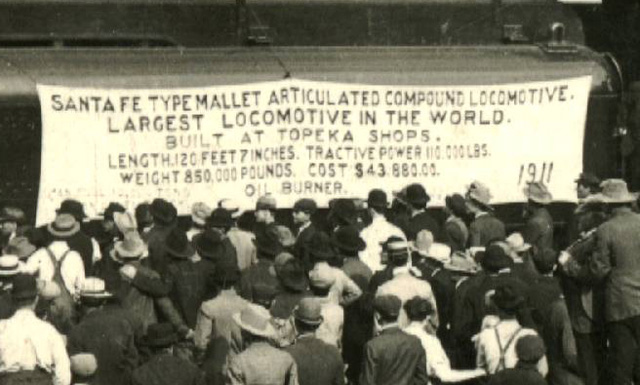 Evan Werkema sent e-mail to say that this is the brand new 2-10-10-2 #3000 on its demo tour along with 4-4-0 #048! Looks like the nearly the whole town turned out to see the "largest locomotive in the world." See more below!
Details

Full view of new locomotive. The following locomotive seems to be an old American 4-4-0 with a wood burning smoke stack.

Subject: Winfield pages
Date: Fri, 07 Mar 1997 14:35:45 -0800
From: Evan Werkema
First, let me complement you on your excellent set of pages on Winfield, KS. I can offer you some additional information on a couple of the pictures. The picture shown on the page
"New Train at the Santa Fe Depot in Winfield, KS. about 1902" is brand new Santa Fe 2-10-10-2 #3009, which was touring the railroad prior to entering revenue service. The 3009 was built in 1911, so the date at the bottom of the print (9/18/11) is probably correct.
The locomotive was one of ten 2-10-10-2's the Santa Fe purchased (#3000-3009). They were the largest locomotives in the world at the time, hence the large turnout to view the 3009. Unfortunately, they were not very successful, and were all gone by 1918. Interestingly, each 2-10-10-2 was cut down in the company shops into *two* locomotives of 2-10-2 wheel arrangement.
The locomotive behind 3009 is probably Santa Fe 4-4-0 #048. Other pictures of 3009's tour clearly show this engine behind it. The train consisted of railroad equipment old and new, and 048 was the "old" engine (built 1878) to contrast with "new" 3009.
Evan Werkema
Berkeley, CA