Winfield 150 Grand Celebration Weekend 2023
written by Cindy Goertz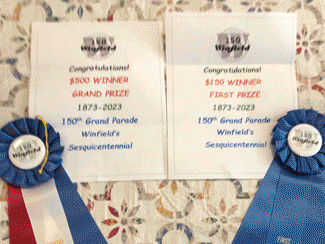 Winfield has been celebrating its 150th anniversary of incorporation as a city in 1873 throughout 2023. What a year of celebration and special events with more to come throughout the rest of the year.
The BIG GRAND celebration occurred in June--three full days of special activities!! Friday, June 2, found Island Park full of folks as an old-fashioned carnival took place and the Winfield City Band performed a special concert celebrating the long history of the city band in Winfield. The band performance included four reenactors relating experiences in Island Park including Chautauqua. Forty non-profits set up fun carnival games complete with fun prizes and of course fun refreshments. "Once Upon a Time" was the theme for the CCHSM booth. Folks of all ages had the opportunity to choose vintage clothing outfits and step behind the backdrop to have a picture taken. What fun!
Saturday morning opened with the CCHSM sponsored Vintage Car Cruise. 30+ vintage cars and trucks gathered in Island Park and then cruised down Main Street at 9:00 to open the GRAND day of celebration. Following their cruise, they joined the Grand Parade. At 10:00 a community picture was taken at the corner of 9th and Main and all joined in singing Happy Birthday Winfield before sharing in a special birthday cake that Dillons provided. At 11:00 the Grand Parade began and it was a grand parade with 80 plus entries. The CCHSM float won first place and the parade Grand Prize for the best representation of the theme.
Following the parade Main Street was still very busy with eight reenactors portraying important founders and business leaders of Winfield as well as the opportunity to hear the story of the mural inside RCB Bank. This was planned by the CCHSM Voices from the Past. The RCB courtyard was busy throughout the afternoon as well with Beverley Olsen Buller present in the RCB courtyard to sign the Winfield Postcard Books, entertainment provided by a barbershop quartet, and two young men busy handing out free homemade ice cream from the truck parked in front of the bank.
Island Park was also busy throughout the afternoon. The vintage cars and trucks and tractors returned to the park for folks to enjoy viewing and food trucks were there to provide a wide range of goodies. At 7:00 the community was treated to a free concert in the park.
Sunday was also full of activities. This time the festivities began at the fairgrounds. A vintage baseball game was played at 1:00 with free hot dogs and chips and drink provided to all in attendance. The Winfield Aquatic Center also offered free swimming during the afternoon. The big celebration weekend closed at Island Park once again with a worship service planned by the Winfield Ministerial Alliance.
What a celebration weekend!!