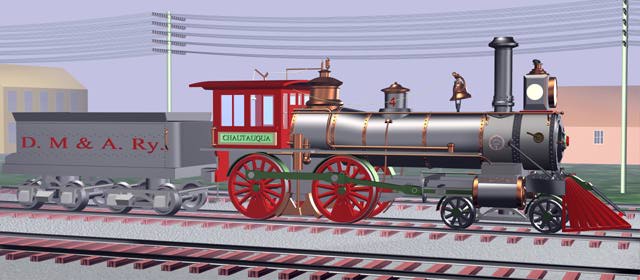 Color rendering of 3d Studio MAX model of Chautauaua.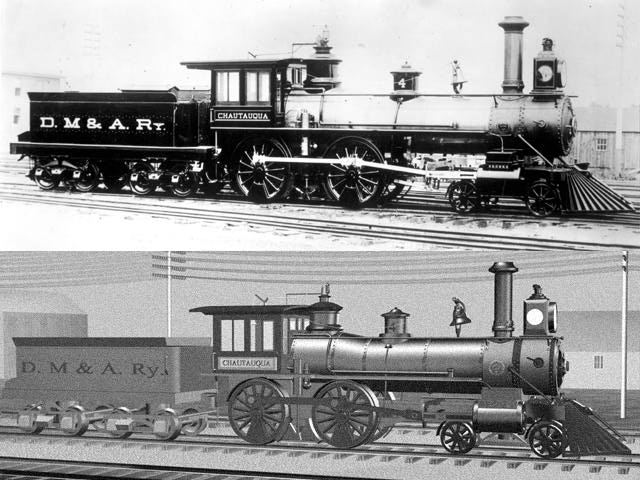 The original Build Photo of Chautauqua compared to a black and white rendering of the model of Chautauqua, with approximatly the same camera angle and lens.
Cowley #5 and Chautauqua #4 together.

Engineer's Cabs of Chautauqua #4, Cowley #5 and Sumner #6.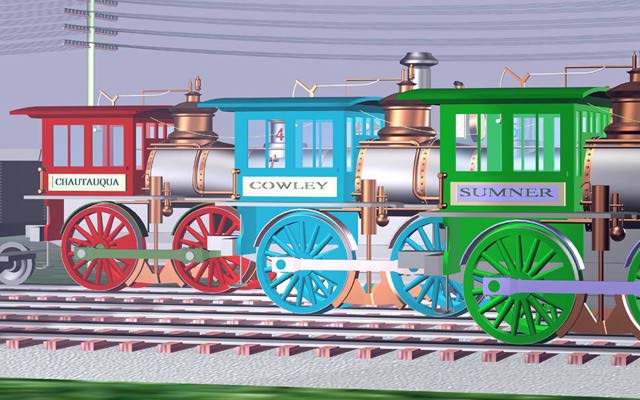 Close up of the three cabs.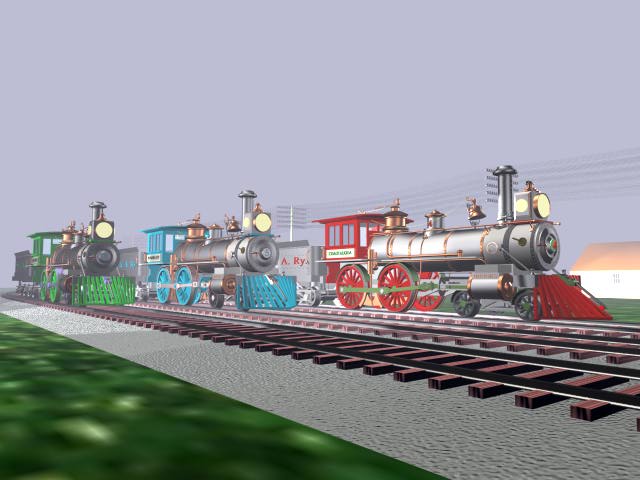 Front view of Chautauqua #4, Cowley #5 and Sumner #6.
The computer model was made with the new 3Dstudio MAX software from Autodesk. Austin Business Computers has been an Autodesk dealer since the early eighties and we started with 3D Studio when it first came out. Prior to 3D Studio we sold TOPAS from AT&T Truevision. This new MAX product is the biggest step improvement we have seen is our nine years in the animation software business. In February, 1996 I went to Dallas to take training on 3D MAX. When I got back, I started on the model of the Chautauqua locomotive. This is a project which I had attempted on 3D Studio, but gave up on because of the time it was taking. With 3D Studio Max I built the model and animated the wheels and rods and other moving parts in about 10 hours one weekend in March. 3D MAX is fun to work with. Since it is written in C++ and very well designed, everything is changeable, even after you have built parts. You can go back on the stack of modifications to the original part and change operations. I built lots of parts by beginning with a simple cylinder and modifying faces, and vertices and extruding and moving to get what I wanted. One of our customers who came over and spent about a half a day playing with MAX said that one new project he was starting, he was now going to wait until the end of April, 1996 for MAX. He told his customer that even by waiting a month to get started, he can finish it quick with MAX. The impact of this product is going to be profound. It marks the point where PC software can seriously challange the high dollar design software available on work stations, at a fraction of the cost. The second shoe will drop when we see what a quarter of a million gifted artists can create when they start producing with this product.