Racing at the Cowley County Fairgrounds in Winfield
From Bob Lawrence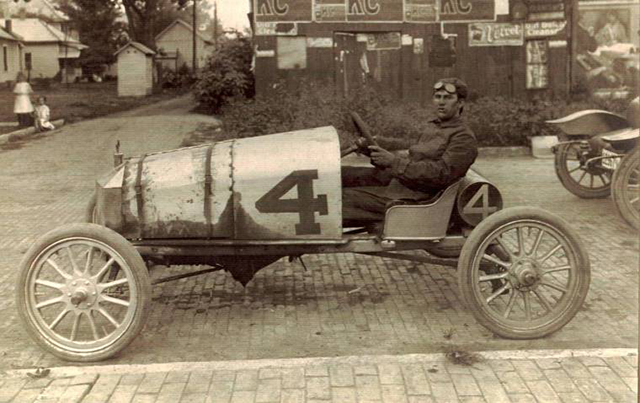 B. T. Barber of Iola, Kansas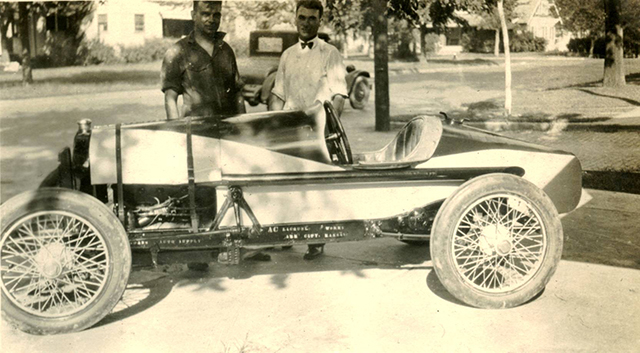 Ark City Car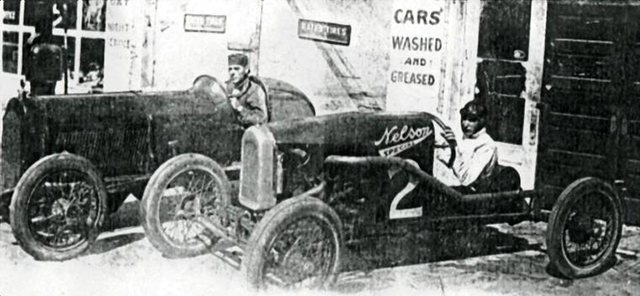 Abe Scruggs in August Brunke's Nelson Special
The Nelson Special, shown here in front of the Superior Garage in Winfield, Kansas was powered by one-half of a 719 cu. in. V-8 Hispano-Suiza (Hisso) aircraft engine. Driver Abe Deering Scruggs (1900-1962) who raced the car at Winfield, Kansas on July 28, 1928, also worked for car owner August Brunke at A. Brunke & Sons Wrecking Co., of Excelsior Springs, Missouri. The second car, just visible in the background, was also a Hisso which had been purchased by Wendell A. Sparling from the estate of Louis "Lou" Scheibell (c1889-1926) after Scheibell was killed in a racing accident at Hawkeye Downs, Cedar Rapids, Iowa. That car later became known as the Superior Special.
The Nelson Special Race Car
Subject: article
Date: Mon, 6 Aug 2001
From: "Bob Lawrence"
To: "Bill Bottorff"
Hi Bill,
The car known as the "Nelson Special" was one of two cars that Kansas City racer Louis Scheibell owned when he was killed in a racing accident in Iowa in 1926. August Brunke purchased the car from Louis' estate and raced it for a short time with Abe Scruggs as driver. I don't know anything about the circumstances surrounding how the car got that name. It is possible that Brunke picked up local sponsorship when he raced at Winfield although third party race car sponsorship was rare in the 1920s. I just have to plead ignorance there. That's one of the many unsolved mysteries to be worked on.
Bob